Grass-Pad-Praire-Drop-Seed-Grass-1.jpg
* Add Color and Texture
* Winter Interest
* Softens Vertical Edges
* Camouflage Utility Boxes
* Tolerate Poor Soil Conditions
* Hardy in Most Conditions
* Appealing to Indoor Décor
* Eye Catching
Uncle's Top Twelve Best Ornamental Grass for Kansas City Landscapes

Best Ornamental Grass for Landscape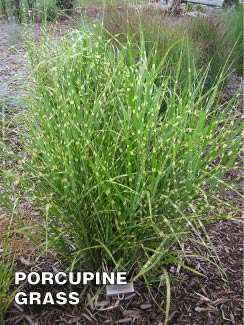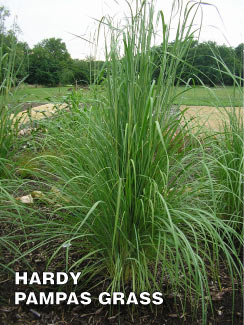 Dwarf Hameln Grass
Slender green leaves and tan, wooly, caterpillar-like blooms from mid-summer through autumn. Drought tolerant. Foliage height is 2' with blooms 3'.
Maiden Grass
A tall, graceful, and clumping ornamental grass with slender, weeping, and silvery green leaves that turn golden bronze in fall. White, fan-shaped plumes in fall extend above the foliage. Foliage height is 5' with blooms 7'.
Porcupine Grass
Green leaves with yellow colored horizontal bands make the ornamental grass stand out. Fast growing 6'-7' tall. Silvery white plumes rise 2' above the foliage in fall.
Karl Foerster Feather Reed Grass
Beautiful cool season grass with an upright growth habit. Flowers in late spring starting as bright pink to red and fading to buff. Thrives in poor soils. Foliage height 2.5' to 3.5' with blooms to 6'.
Shenandoah Switch Grass
Bright red foliage deepens to burgundy by fall. Blooms begin in color, up by early June. A good substitute for Japanese Blood Grass. Foliage height is 2' to 3' with 4' blooms.
Yaku Jima Dwarf Maiden Grass
Compact selection with fine textured foliage that turns reddish brown in the fall and remains attractive well into winter. Silvery beige plumes provide additional accent in the fall. Foliage height is 3' to 4' with blooms 4' to 5'
Morning Light Maiden Grass
Silvery graceful, upright, and arching. The foliage has a narrow white band and runs the full length of each leaf giving it a light and silvery effect. Foliage height is 4' with blooms 5'to 6'.
Overdam Variegated Feather Reed
Nicely variegated foliage with vertical white stripes. Grow in compact clumps 2' to 3' high with blooms to 6' high.
Dallas Blues Switch Grass
The gray-blue foliage is wider than most switch grass and turns attractive shades of rust-brown to warm tan in winter. Large, finely textured, mauve flower panicles. A dense upright, vase-shaped clump to 5'.
Hardy Pampas Grass
A large, clumping ornamental grass with very show, silvery-white plumes borne atop sturdy, erect, reddish stems. Flowers tower above gray-green, mounding basal foliage in late summer. Cold hard, drought tolerant. Foliage is 5'to 6' with blooms 12' to 14'.
Japanese Silver Grass
A creamy-white variegated grass, Reddish-brown feathery seed heads turn to white plumes and contribute to the striking appearance of this grass. Matures at 6' to 8' tall and 4' to 5' wide. An excellent alternative to Pampas Grass.
Annual Purple Fountain Grass
Not Hardy in Mid-West but this one deserves an honorable mention. Working in landscpes as an annual or in containers this is a great plant. Narrow, gracefully arching, burgundy-purple leaves. Foliage height is 3' with blooms to 4'.